As breastfeeding moms, it can be very hard to always be available to offer your baby the breast. Some moms can exclusively breastfeed, some moms can pump milk and feed their baby a bottle, and then there are moms who supplement formula with nursing, and so on.
Whatever your situation is, we are here to bring some ease to your life by breaking down the best-rated bottles for the nursing-to-bottle transition. For some babies transferring from bottle to nursing can be challenging especially if the bottles are not made to assist in that transition. You can read a little bit about the breast-to-bottle transition here https://www.healthpartners.com/blog/baby-wont-take-bottle-help/#:~:text=Babies%20establish%20a%20suck%2Dswallow,what%20they%27re%20used%20to. So here are the 5 top rated bottles that we chose for breastfeeding babies.
**The owner of this website, is a participant in the Amazon Services LLC Associates Program, an affiliate advertising program designed to provide a means for website owners to earn advertising fees by advertising and linking to amazon.com, and any other website that may be affiliated with Amazon Service LLC Associates Program.
1. BEST RATED BOTTLE FOR CLEANING: COMOTOMO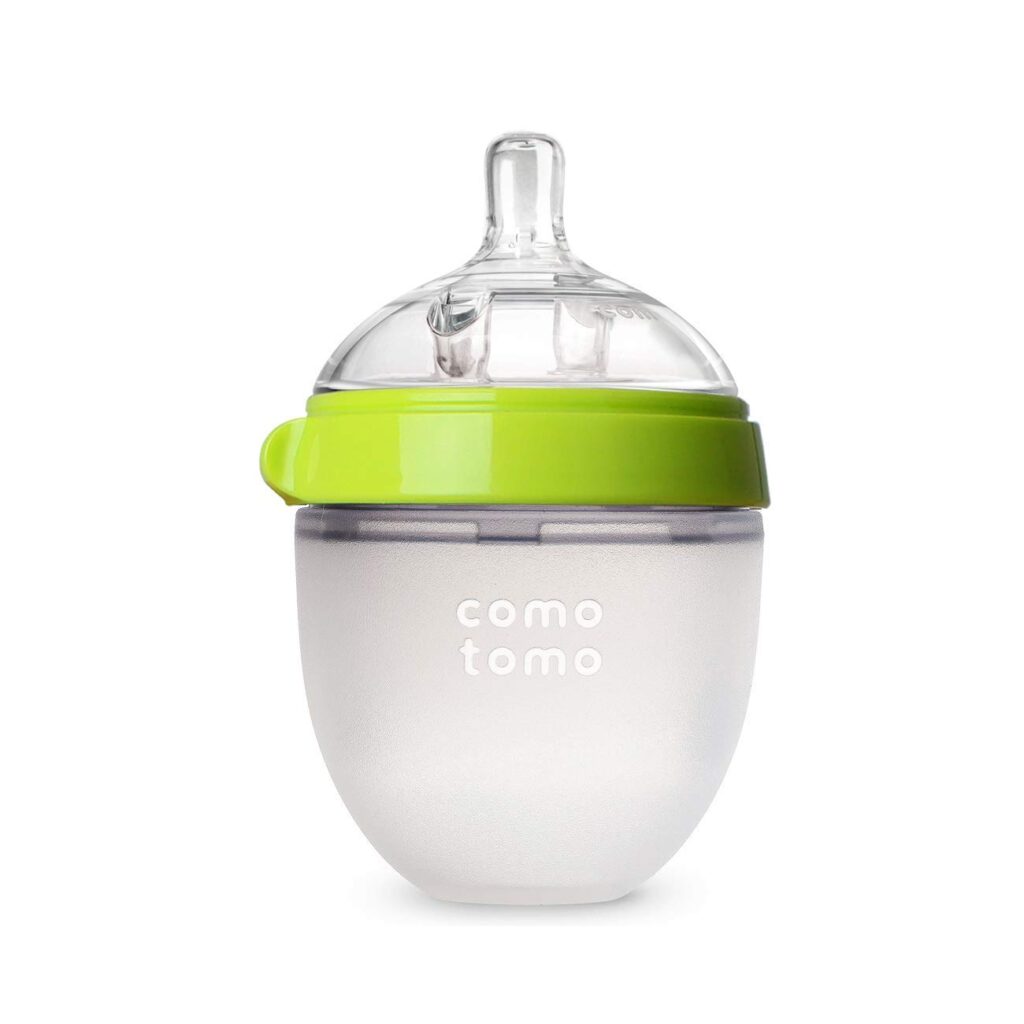 The Comotomo company was created in 2009 and is currently one of the most reviewed and highly rated bottles.
The bottle is praised for its design, and being easy to clean, its microwave, dishwasher, boiling, and sterilizer safe.
Mamas are reporting smooth transitions between breast and bottle, some giving credit to the bottle's design and wide nipple shape aiding in this smooth transition.
You can purchase three different types of nipple flows (Slow, Medium, Fast)
How it's made:
100% food-grade silicone
BPS Free, Phthalates Free, BPA Free, Nitrosamines Free, Lead-Free
Made with Anti-Colic features.
PROS:
Easy to Clean
Reported smooth transitions between breast and bottle from breastfeeding mamas.
Anti-Colic vents
Two colors to choose from (Pink, Green), two sizes ( 5 oz, 8oz)
Made without harsh materials.
CONS:
Difficulty seeing measuring markings on the bottle (ounces)
Reports of being leaky
AFFORDABILITY: MID-HIGH AFFORDABILITY
5oz bottle- 12.99 (you can buy 2 5oz bottles for 22.99)
8oz bottle- 13.99 (you can buy 2 8oz bottles 23.99)
Baby bundle- 59.99 (2 5 oz bottles, 2 8 oz bottles, 1 Pack (2 units) -Slow Flow Nipples (0-3 months)
1 Pack (2 units) – Medium Flow Nipples (3-6 months)
1 Pack (2 units) -Fast Flow Nipples (6+ Months)
*Tips to save money*
On the Comotomo website, they offer a one-time 10% off if you sign up with your email.
2. BEST RATED BOTTLE FOR PROTECTING NUTRIENTS: NANOBEBE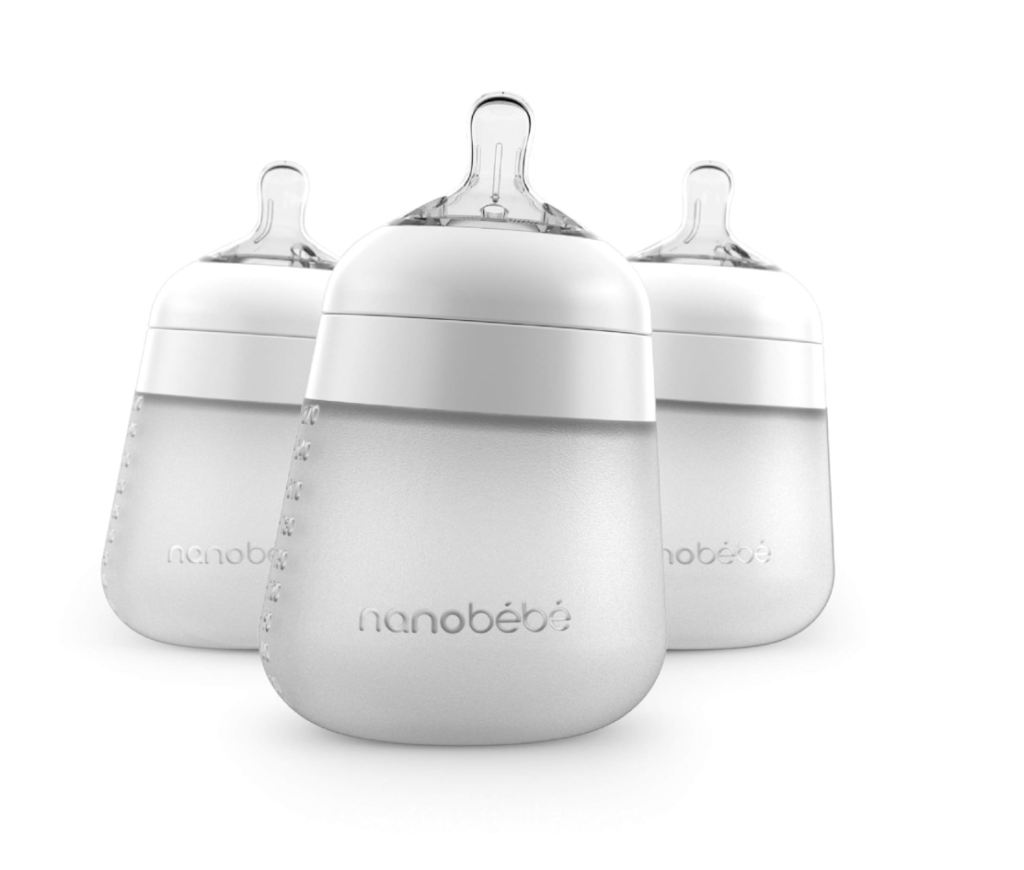 The Nanobebe company was created in 2013 and is another highly praised bottle for breastfeeding and formula-fed babies.
Nanobebe is best known for its uniquely made bottles that preserve the nutrients in breast milk. Here is Nanobebe's claim for their stackable breastmilk bottle…
"The Breastmilk Bottle's domed shape spreads the milk out in a thin layer which warms and cools more quickly than traditional baby bottles. Quick cooling helps reduce bacterial growth, while quick & even warming helps prevent nutrient-damaging temperatures so baby is fed safely and promptly."
Nanobebe also makes silicone bottles that can be used for breast milk, and formula.
They offer both bottles in a variety of different colors.
Flexy Silicone bottles– Moms reported loving the Flexy Silicone bottles. Nursing Moms seem to particularly like the nipples on the flexy silicone bottles.
Breastmilk bottle- Moms reported also loving the nipple on the Nanobebe breastmilk bottle. Reporting they appreciate the slow flow nipple that comes with the bottle by default. Moms also appreciate the wide bottom, making it possible for newborns to grip their bottles, and warm the milk quickly without compromising that precious liquid gold.
HOW IT'S MADE:
BREASTMILK BOTTLE-
BVA, PVC, LEAD AND PHTHALATE FREE
MADE WITH ANTI-COLIC VENT FEATURES
FLEXY SILICONE BOTTLE –
Made with naturally hygienic, food-grade silicone that's BPA-free, phthalate-free, lead-free, and PVC-free. 100% silicone interior.
Anti-colic nipple
PROS
Breastmilk bottle specifically made to preserve nutrients in breastmilk.
Moms love the nipple on both flexy and breastmilk bottles for their babies, giving it the credit for their babies latching well.
Moms love the wide bottom shape of the breastmilk bottle, making it easier for their newborns to grasp the bottle.
Moms reported their preemie babies adjusted well to their bottles.
CONS
Moms have reported caps of bottles do not stay on the flexy silicone bottle.
AFFORDABILITY: LOW-MID AFFORDABILITY
Breastmilk Bottle- 10.99
Flexy Silicone Bottle- 9.99
3-pack flexy silicone- 18.99
3-pack breastmilk bottle-18.99
Complete feeding set starter kit (2 breastmilk bottles, 1 5oz flexy bottles, 1 9oz flexy bottles, 2 flexy silicone pacifiers (0-3 months), 4 slow flow nipples, 4 nipple covers, 2 storage caps, 2 breast pump adapters, 1 flexy bottle brush, 1 nonelectric breastmilk bottle warming bowl) – originally 49.99, price is now 39.99 on the original website.
Breastmilk bottle starter kit (4 breastmilk bottles, 2 flexy silicone pacifiers (0-3 months), 4 slow flow nipples, 4 nipple covers, 2 storage caps, 2 breast pump adapters,1 nonelectric breastmilk bottle warming bowl)- 25.99 on the original website.
*Tips to save money*
Amazon offers the complete feeding set starter kit for 32.99 obviously cheaper than 39.99.
Phillips Avent has been around since 1984! Their products are used by hospitals. In my opinion, Avent really is the most trusted brand among parents and healthcare providers.
Phillips offers the Natural baby bottle in different colors, in plastic and glass.
Phillips also offers the classic baby bottle (anti-colic) that is made from plastic and has different color options, this bottle is mostly used by formula-fed babies. This brand is another one that is among the highly rated bottles, particularly for breastfed babies.
Natural Bottle (breastfeeding moms)- Moms reported the bottle being leakproof, and their babies adapt well between breast and bottle. Moms also appreciate the nipple flow of the bottle. Exclusively breastfeeding moms are praising this bottle as the only bottle their babies took to.
HOW IT'S MADE:
BPA free plastic
BPA Free glass option
PROS (Natural Bottle)-
Reports of the bottle being leakproof
Babies adapt well to the switch between breast and bottle.
Good nipple flow
CONS- (Natural Bottle)-
Some moms stated the slow flow of the nipple may be too slow.
*My observation is that moms are using slow-flow nipples for their babies past the newborn stage, it is recommended that the slow-flow nipples are mostly used for 0-3 months, of course with your discernment as you know your baby the best. *
AFFORDABILITY: LOW-MID AFFORDABILITY
Glass Natural Response bottle 4 pk- 39.99 on Amazon
Plastic Natural Response bottle 4 pk- 30.65 on amazon
*Tips to save money*
On the Avent website, they have the bottle for 29.95, not too much cheaper than Amazon but hey every dollar counts in this economy. You can also get 15% off your first purchase, and free shipping if you sign up with your website on Avent.
FINAL THOUGHTS
All these bottles are great, and all babies are different some babies may obviously work better with some brands over others.
That's why we are here to try and make your life a little easier with a detailed review. Overall, our recommended bottle for exclusively breastfed babies is Avent. Avent is the most trusted, tried, and true brand around for decades. Also, it was the only bottle my own breastfed baby took to.
However, that does not mean the other bottles listed here won't work, as I stated every baby is different. You got this mama! We are here for you, and we will be coming through with more reviews that will help you on your mama journey!
read 13 nursing chairs for breastfeeding in 2023 next! https://hospitalbagessentials.com/best-chairs-for-breastfeeding/