Do you have any questions(s) about the mam pacifiers?
Then, you're in the right place.
In this post about Mam Pacifier FAQs, I'll try as much as possible to answer all the commonly asked questions about the mam pacifier.
Let's get started.
**The owner of this website, is a participant in the Amazon Services LLC Associates Program, an affiliate advertising program designed to provide a means for website owners to earn advertising fees by advertising and linking to amazon.com, and any other website that may be affiliated with Amazon Service LLC Associates Program.
How to Sterilize Mam Pacifier?
Here's a step-by-step guide to sterilize mam pacifier.
Step 1:
Before the first use of mam pacifier, boil it in water for 5 minutes. After boiling, make sure you leave the pacifier for a further 5 minutes before giving it to baby.
Step 2:
Squeeze the nipple to remove any small amount of water that entered the pacifier during cleaning process. This makes it more hygienic.
Step 3:
When cleaning the pacifier, make sure you don't need any aggressive cleaning agents.
Step 4:
Make sure that the pacifier isn't dipped in sweet substances or medication. This could lead to tooth decay.
Step 5:
If you want to maintain the glow at night, keep the pacifier in daylight, but not under direct sunlight.
How to Attach Pacifier Clip to Mam?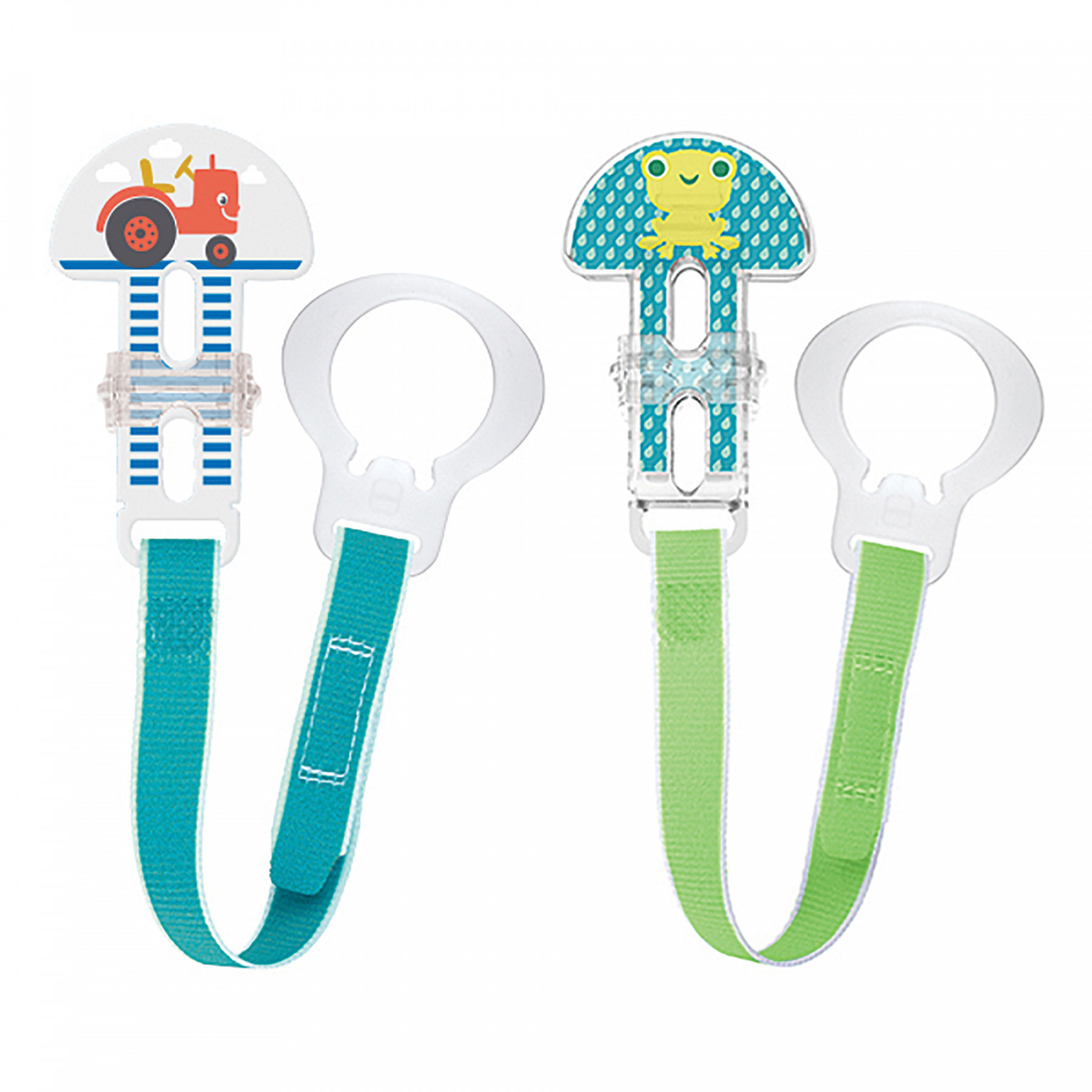 Here's how to attach a pacifier clip to Mam.
Step 1:
Press the ring over the button of the pacifier.
Step 2:
Open the clip by moving the slider towards the leash. To close the clip, click the slider towards the rounded end.
Step 3:
Make sure you attach the pacifier clips only to garments, and not something else.
Step 4:
Ensure that you clean the clip regularly using warm water and mild cleaning agent. To do this, always rinse the thoroughly. And avoid boiling, steaming, or sterilizing the clip.
Step 5:
Avoid using solvents or abrasive cleaning agents with the Mam pacifier clip. This is because, it can damage the product.
How to Disinfect Mam Pacifiers?
If you want to disinfect the mam pacifier, make use of the sterilizer and carry box.
The first thing you need should do is fill the box to the indicated level with water.
Afterwards, place the pacifier (soother) in the box, with the teat facing down.
Finally, you should close the box and heat in microwave for at least 3 minutes.
Voila! You've successfully disinfected the mam pacifier.
Here's a video that shows you exactly how to sterilize a mam pacifier using the sterilizing case.
Can You Boil Mam Pacifiers?
Yes, you can boil mam pacifiers. In fact, boiling a mam pacifier is one of the recommended ways of sterilizing a pacifier and ensuring that germs are completely removed from it.
What are Mam Pacifiers Made Of?
MAM pacifiers are made of either a silicone or latex nipple. The silicon-made mam baby pacifier is silky soft and has an anti-slip surface, which makes it stay in the baby's mouth easily.
The natural latex-made mam pacifier is gotten from the sustainable rubber tree crops in Thailand.
Are Mam Pacifiers BPA Free?
Yes, Mam pacifiers are BPA free. According to the company, all the materials used by Mam, are made from products that are BPA and BPS free.
How to Get Water Out Of Mam Pacifier
To remove water out of mam pacifier, which might have entered it during cleaning, all you need to do is squeeze it gently with clean fingers. When you do, the water will be removed from that pacifier.
When to Switch Mam Pacifier Sizes
You should switch from one mam pacifier size to the other, as soon as your baby has exceeded the age for a particular pacifier.
Usually, Mam pacifier comes in three (3) sizes
Newborn (0+)
0-6 months old
6 months+
So, if your child about 7 months old, then you should use the third category of pacifiers.
Where to Buy Mam Perfect Pacifier
There are a lot of places to buy Mam Perfect Pacifier online. Your best bet however, is to buy your Mam Pacifier from Amazon.
If you're looking at other pacifier options aside Mam pacifier, you can check out our comprehensive review of the best pacifiers for breastfed and newborn babies.
Are Mam Pacifiers Dishwasher Safe?
Yes, Mam pacifiers are top-rack dishwasher safe.
That said, it's recommended that you place it within a basket to prevent them from falling onto the heating element of your dishwasher.
Are Mam Pacifiers Good For Breastfed Babies?
Yes, Mam Pacifiers are good for breastfed babies. In fact, it's one of the most recommended pacifiers for babies by lactation experts.
Are Mam Pacifiers Good For Teeth?
Yes, Mam pacifiers are good for teeth.
In fact, the MAM Perfect Pacifier is made from extra thin BPA/BPS-free silicone, which reduces the risk of tooth misalignment for the baby, providing a soothing experience in the process.
Are Mam Pacifiers Orthodontic?
Yes, MAM pacifiers are orthodontic.
That way, it becomes easy for the jaw to be healthy and enhances teeth development.
Can You Put Mam Pacifiers in the Dishwasher?
Yes, you can put Mam pacifiers in the Dishwasher. Not only that, you can also clean or sterilize the pacifier in the dishwasher.
How Long Do You Sterilize Mam Pacifiers?
You should sterilize the Mam Pacifiers for 5 minutes. After sterilizing, you should leave it to cool for an extra 5 minutes before giving it to the baby.
How to Take Apart Mam Pacifiers
Here is a detailed tutorial that shows you how to take apart Mam pacifiers.
Over to You…
Do you still have any questions about the Mam pacifiers.
If yes, please leave a comment below and our team of researchers will work on it and we'll update the post with the latest answers to Mam pacifier FAQs.